You asked us, and we are answering.
Hover over the image to Pin it!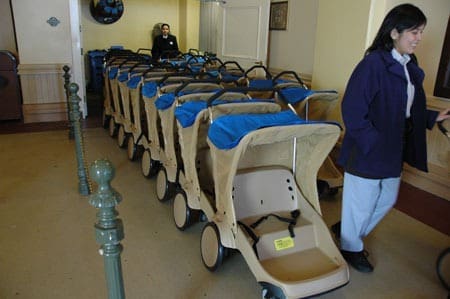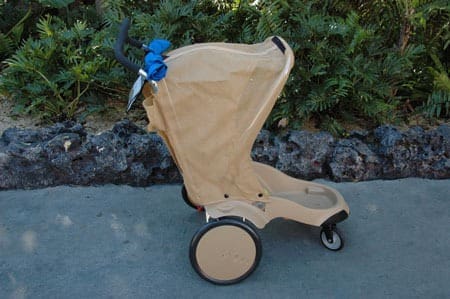 Here's more information for you:
Description: Disney strollers are made from rigid plastic and they don't recline. They do offer a canopy for sun protection and seat belts. (Note: these plastic strollers really heat up in the afternoon Florida sun!) There is a pouch on the back to hold items, but no cup holders.
Cost: Single strollers cost $15 per day, while double strollers cost $31 per day. Disney offers a discount if you rent for your entire stay at one time: Single strollers cost $13 per day, while double strollers cost $27 per day.
Where you can get them: Disney strollers are available inside the theme parks, and at Downtown Disney. These strollers can only be used within the parks, which means at the end of a long day, you may be stuck carrying your children to the car, tram, or monorail. They are not available at water parks or at the resorts, which means more carrying children around.
Note: infants and children under age 2 don't do well in these strollers, they just aren't designed for them.
We invite you to browse our stroller fleet, where the average cost for a week long rental of a single stroller is $53 and a double stroller is $64. And, we include free delivery, return, and cup holders with all rentals! Ready to reserve now?
Photos courtesy of tipsfromthedisneydiva.com.